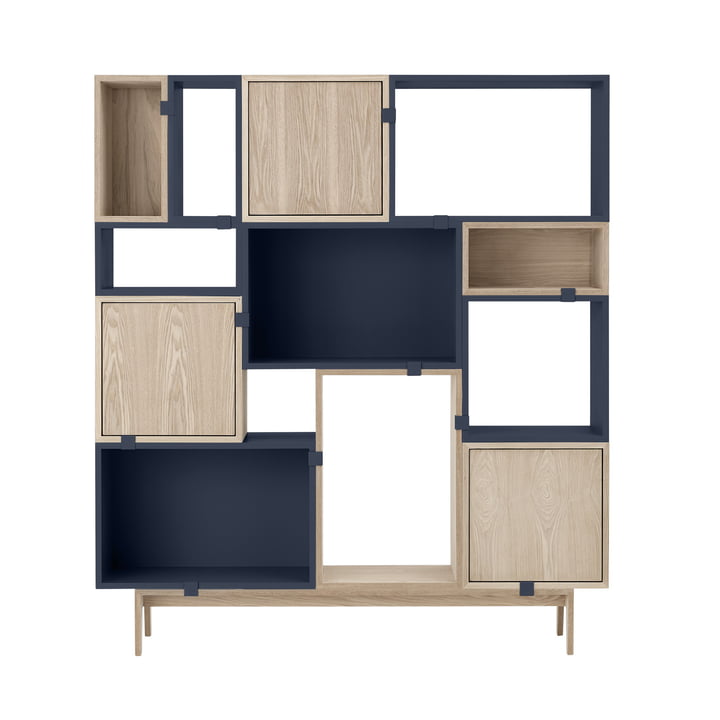 Stacked Shelving system Configuration 6 midnight blue/oak
Please contact us for more information 
▴ Please note this is a pre order item 
▴ Extra delivery costs apply.
▴ Please see our Furniture FAQ for details.
Being both versatile and functional, the Stacked system can be arranged to meet the exact aesthetic and functional requirements of any space. The shelving can be mounted on the wall if necessary, making it particularly robust and safe to use. Different rectangular shelves not only form a geometric aesthetic in the overall picture, but also divide the shelf into small sections that can be decorated and categorized as desired.
Designed by JJulien De Smedt in 2016, the designer aims to create a coordinated network as an efficient storage that keeps things organized while forming a decorative eye-catcher. Available in different finishes and can be combined as desired, the shelf can be adapted to individual needs.
Colour
Different colours
Dimensions
Height: 172.6 cm, Depth: 35 cm, Length: 152.6 cm