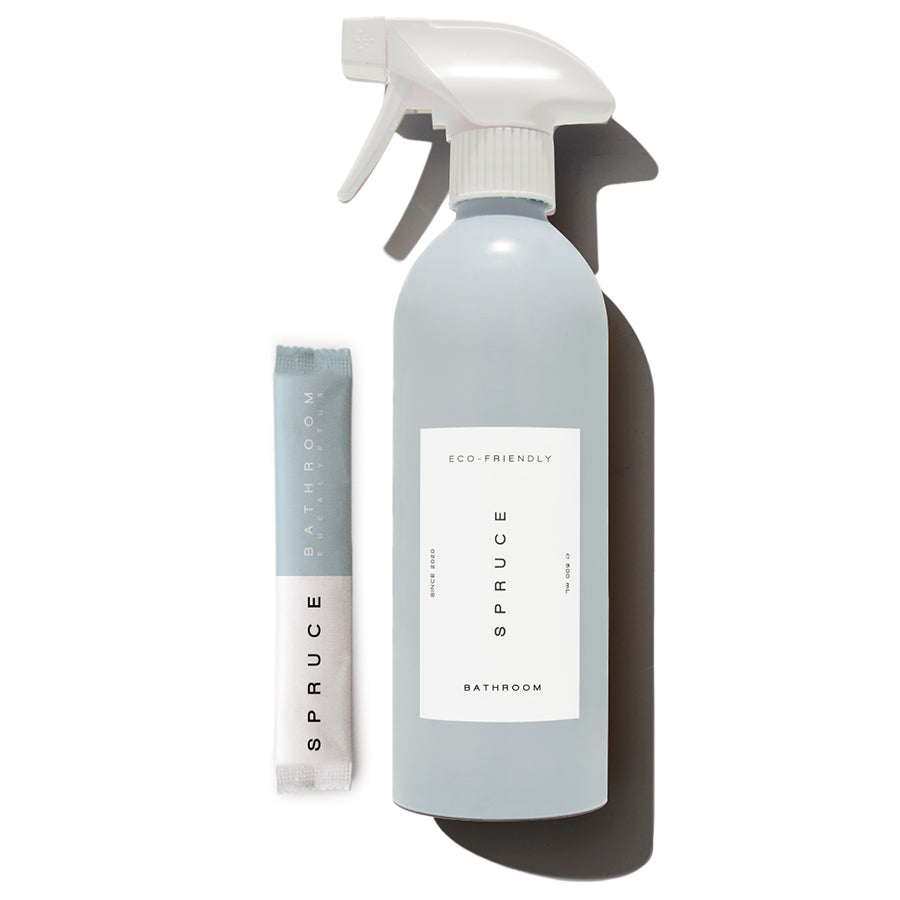 SPRUCE BATHROOM CLEANER STARTER KIT - 500ML WAS £12
Vegan friendly and organic, this bathroom cleaner starter kit is a great way to cut down on plastic waste. Made without the use of chemicals, the non abrasive formula cuts through soap scum, water marks and limescale. Use on tiles, countertops, stone, wood and most sealed surfaces and leave your home smelling like a spa with the Eucalyptus essential oil fragrance.
Just add water to a refill pack to make a full bottle of cleaner and get cleaning within minutes.
Pack includes:
1 x Refillable Spruce Bottle
1 x Plastic-free Bathroom Cleaner Refill
Single-use plastic bottles are filled with 90% water and harsh chemicals, they harm your health and that of the planet. At Spruce, they do things differently, using the business as a force for good to promote high environmental, social and ethical standards. They don't and will never use any of the toxic chemicals present in most mainstream cleaning products and they collect and remove ocean-bound plastic waste equal to twenty-five plastic bottles with every starter kit purchased. Their refills are packed in plastic-free, home compostable packaging and all of their outer packaging is plastic-free, FSC-certified, printed with biodegradable ink and is fully recyclable.
Proud supporters of Plastic Bank who build ethical recycling ecosystems in coastal communities, and reprocess the materials for reintroduction into the global manufacturing supply chain. Stopping it from going in to our oceans and improving the lives of those who help collect it!
For every starter kit you purchase, Spruce remove ocean-bound plastic waste equivalent to twenty-five 500ml plastic bottles
B Corp Pending, Female Founded
Finalist for Dezeen Awards for Sustainable Design 2020
Edie Sustainability Awards for Circular design and Leadership 2021
West London Business Awards Finalist for Startup of the year
Circular Business of the Year
18 months shelf life
500ml
Empty refill contents into your refillable Eternity bottle, fill with tap water slowly to avoid excess foaming and get cleaning within minutes. Use only one refill pack per bottle. Each plastic-free refill makes a full-sized 500ml bottle of cleaning solution. Do not shake. Shaking may result in excess foaming and product wastage. Our refills are packed in 100% plastic-free, home-compostable paper. Please dispose the pack with your food waste (which we hope is not sent to the landfill). Cut it up in small bits and compost at home. The pack will turn into rich fertiliser for your home plants. Do not recycle with paper or plastic.