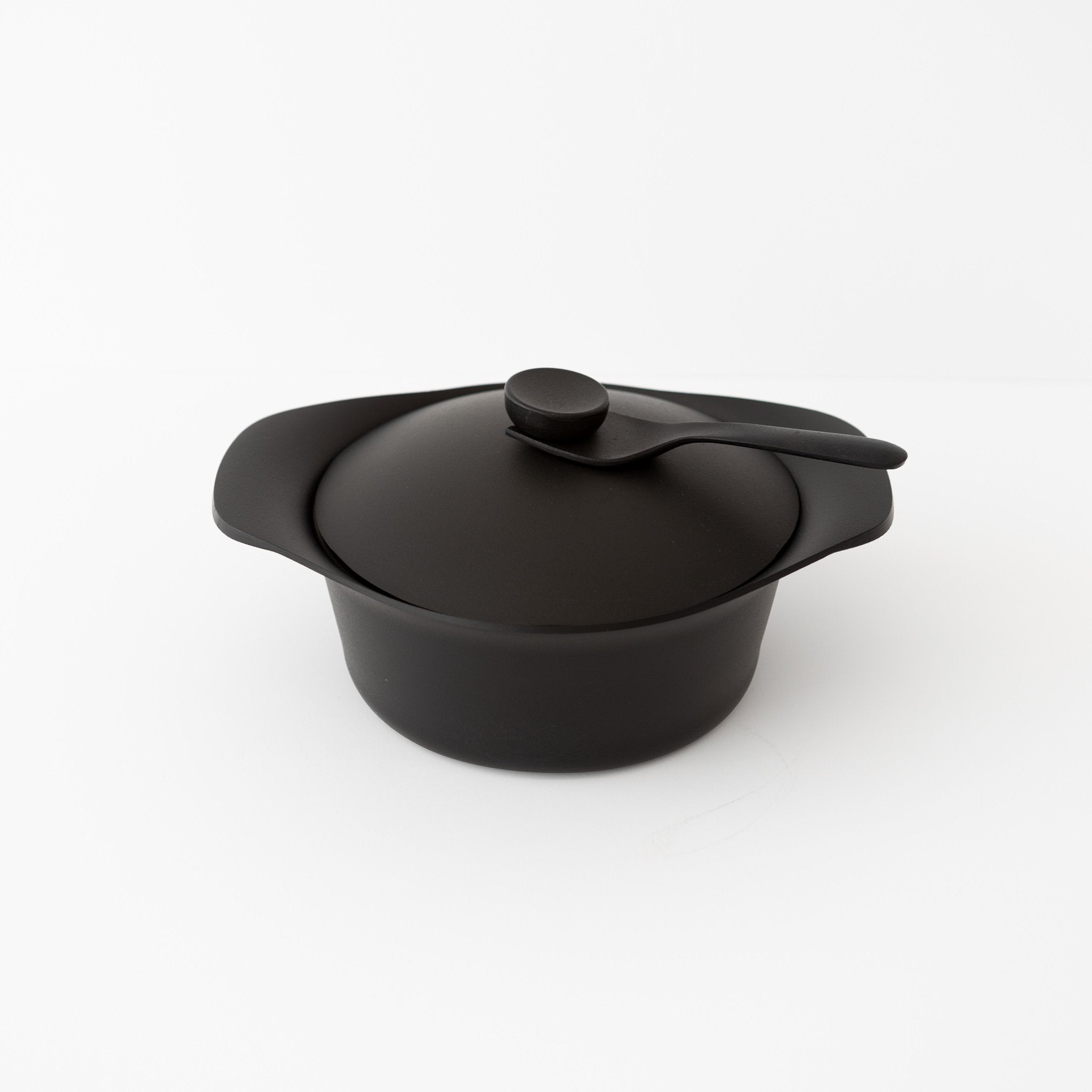 Sori Yanagi Nambu Tekki Deep Pan
Designed in 1999, this cast iron deep pan combines traditional Japanese Nambu Tekki craftsmanship with modern design aesthetics. The pan has been crafted from a single thick piece of cast iron, which quickly and evenly distributes heat around the surface. Curved edges allow for easy pouring, while the removable fork-handle is perfect for keeping your hands cool when you lift off the lid. This pan also cooks food lean by raising the food above oils and fat. Safe for use on gas, electric, or induction stovetops. 


Measurement:
9.8" W x 12.9" D x 6.3" H
Volume 118.3 fl oz
Weight 11.6 lbs

Materials: 
Nambu Tekki Cast Iron

Care Instructions:
Season your new cast iron before use in order to create a natural non-stick surface. This can be done by scrubbing the pan with warm, soapy water, driving the cast iron thoroughly, and then spreading a thin layer of vegetable shortening, lard, or bacon grease along the bottom. Heat the oven to 375 degrees and place upside down on a middle rack in the oven. Bake for one hour and then let cool completely. Repeat this process regularly.  Always hand wash this pan with hot water, no soap, and a wooden or non-metal tool to remove any residue. Dry immediately after wash - best results achieved by placing the pan on the stovetop for a few minutes.  Avoid splashing cold water onto a hot pan to prevent warping over time. Never submerge in water for an extended period of time.
Variation:

The lacquer coating may be uneven in parts to reveal a silver-brown patina underneath.  This is part of its natural beauty.
History: 
Sori Yanagi's kitchen product series began with an extensive line of cutlery in 1974, and has since expanded to include pots, pans, kettles, colanders, bowls, knives, utensils and cast iron grills. His design concept nurtures simplicity and the inclusion of small ideas that affect us in big ways.  Often listed amongst legendary masters of industrial design like Charles & Ray Eames and Arnie Jacobsen, Yanagi is considered to be one of Japan's most influential product designers and a leader of the industrial post-war design movement in Japan. Credited as the father of Japanese modern design, Yanagi's bent plywood stool, the "BUTTERFLY STOOL", which was designed in 1956, is currently part of the permanent collection at the Museum of Modern Art in NY.  All Sori Yanagi pieces are made in Niigata, Japan.