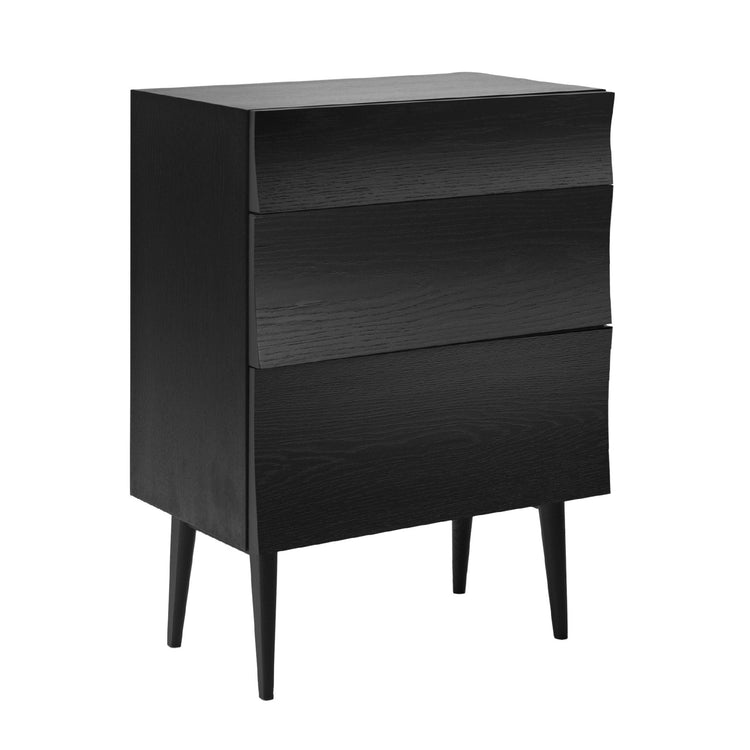 Please contact us for more information 
▴ Please note this is a pre order item 
▴ Extra delivery costs apply.
▴ Please see our Furniture FAQ for details.
Board with oak veneer on top gets cut out and glued together. The fronts are CNC cut with oak veneer on top. Finally, the wood gets treated with oil.
The design and craftmanship underlines the warm and natural feeling of the oak wood, as well as giving a salute to the masters of classic
Scandinavian furniture making. Comes in 3 sizes.
Søren Rose on the design "Reflect owes its stunning and unique looks to the phenomenon under which it was envisioned: The natural light of Scandinavia. The four corners on each front have a unique thickness and curve that contributes to the light reflections of the drawers."
Technical Info
Dimensions: L 74 x D 42 x H 100 cm

Material: Board with veneer in oak, solid oak legs

Finishes:
Natural oiled oak (09161)
Black stained (09162)

Cleaning instructions:
Dust sideboard often and carefully with a soft cloth following the grain pattern or remove
abrasive dust particles. Periodically clean with moist cloth. Dry immediately with soft cloth
following wood grains. The sideboard should not be subjected to excessive humidity, heat or direct sunlight.