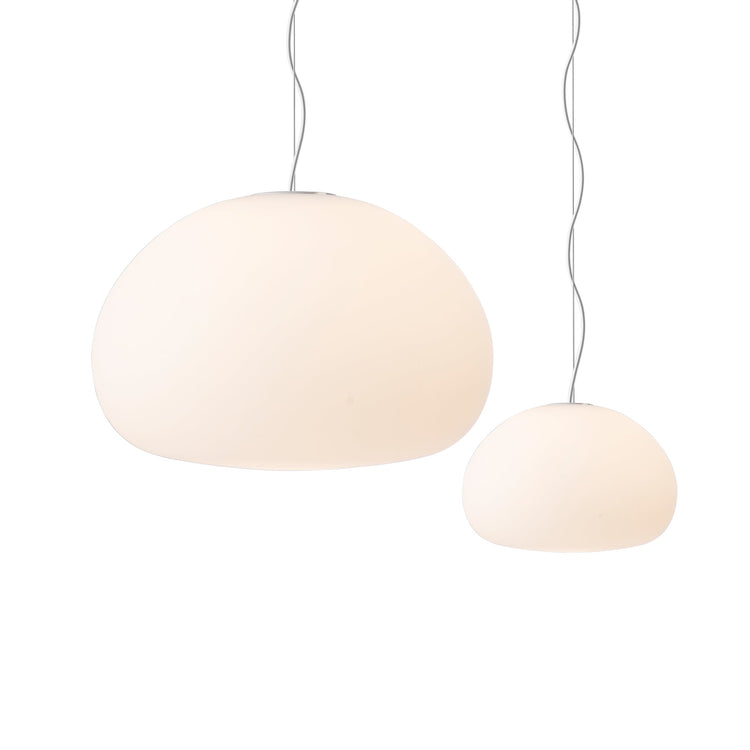 Please contact us for more information 
▴ Please note this is a pre order item 
▴ Extra delivery costs apply.
▴ Please see our Furniture FAQ for details.
The FLUID pendant lamp is inspired by a resting drop of water. The lamp's soft round shape is enhanced by its frosted matte glass surface and perfectly matches its warm cosy light. The lamp can be hung as a single feature alone over a table or mixed in clusters with other small and large FLUID lamps to create the desired ambience.
Technical Info
Material:
White silk mat opal glass, Lid in Nylon66 with Fibre glass.

Small:
Height: 14,3 cm
Diameter: 23 cm

Large:
Height: 27 cm
Diameter: 42 cm

Technical specifications:
Small: 220V-240V, 50 Hz, G9 1x Max40W, Class II, IP20 (bulb not included)
Large: 220V-240V, 50 Hz, E27 1x Max 60W or 1 x 13W, CFL, Class II. (bulb not included)

Cleaning instructions:
Clean with soft dry cloth only. Always switch off the electricity supply before cleaning.