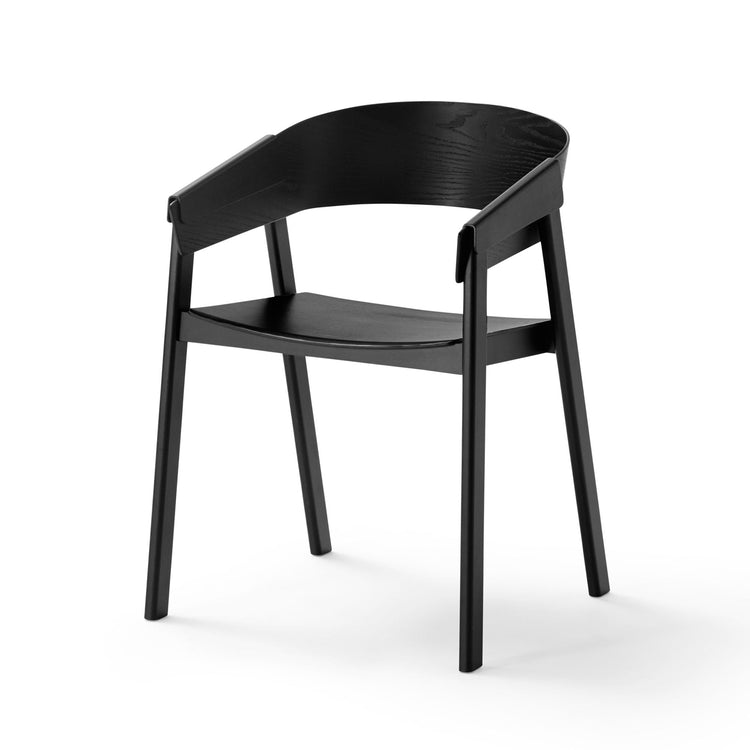 Please contact us for more information 
▴ Please note this is a pre order item 
▴ Extra delivery costs apply.
▴ Please see our Furniture FAQ for details.
The Cover chair by designer Thomas Bentzen is a modern reinterpretation of the classic wooden armchair and adds a new perspective to this traditional Nordic piece of furniture. Cover has a rounded form - pressed veneer shell and four strong wooden legs which give the chair a solid and grounded expression. Yet the Cover is unexpectedly light.
The chair comes with an upholstered seat, and in a version solely made of wood, and through its contemporary design Cover works well around a dining table, as a desk chair, in a restaurant, at a hotel room, or by itself just to add a modern touch to the room.
Thomas Bentzen explains the design "Cover is born from a desire to create a comfortable and contemporary armchair in wood. The chair has its name from the thin molded plywood covers, which work as comfortable armrests and as structured element holding the chair together. An original detail that gives the Cover chair a strong personality.
I aimed for a crisp and vivid expression in the plywood while looking for a solid and grounded look in the frame and base of the chair, which creates an interesting contrast. Three years of play and hard work in the making has resulted in a strong, yet light armchair playing and taking the molded veneer to its extreme."
Technical Info
Dimensions: W: 56.5 x D: 46 x H: 76cm (Seat height: 46cm)

Material: Lacquered ash or oak veneer shell, form pressed wood veneer base. Wood is PU lacquered
Colour options: oak, grey, anthracite, black, green, red