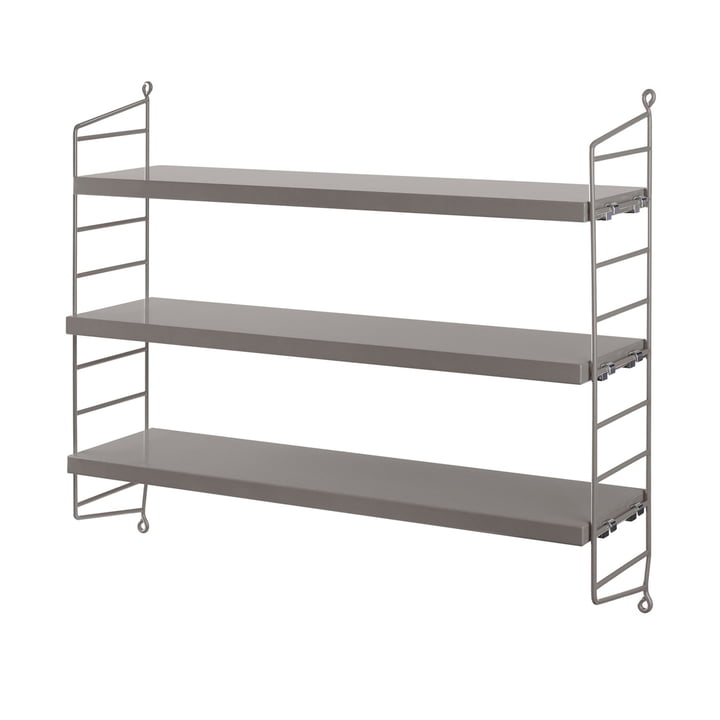 Please contact us for more information on other colours/combinations
▴ Please note this is a pre order item 
▴ Extra delivery costs apply.
Included : 2 side panels and 3 shelves
Materials : white painted metal 
Total dimensions : 65 x 15 x 50 cm

GREY


The String® Pocket is the complete shelving package. Originally created in 1949 by the Swedish architect and designer Nisse Strinning it is now available in oak with white side panels.
String® pocket is the little brother of the String® shelving system, suitable for CD's, DVD,s and pocket books. The structure of this Swedish classic is light weight, yet stable. String® pocket is simple to assemble and put up. Items are kept in place by the side panels.

This functionality and the timeless design are the reasons why String® still attracts attention after 60 years.

1949: Winner of Bonniers bookshelf competition.
1954: Awarded gold medal, Triennale, Milan. 
1954: Exhibition "Design in Scandinavia", USA. 
1955: Exhibition "H55", Helsingborg, Sweden.
1993: Awarded Excellent Swedish Design by Svensk Form. 
1999: Strinning honoured Classic Award by Svensk Form.
Please note there maybe a furniture delivery surcharge for this item.