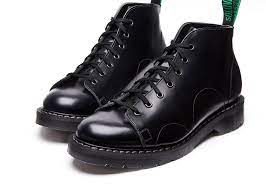 Solovair Black Hi-Shine Monkey Boot
Solovair Classic Collection
100% Made in England
Black Hi-Shine Leather Upper
Leather & Synthetic Lining
Soft Suspension Classic Sole
Goodyear Welted
Goodyear Welted

British made footwear is amongst the best quality in the world. By combining over 130 years of traditional craftsmanship and tooling with the latest technology and materials, NPS continue to produce the finest quality footwear. To maintain this undisputed quality, our products will always be handmade from start ('clicking') to 'finishing' in the UK!